How to Make Money Writing From Home - Blogging.
eBook Guidance is reader-supported. When you buy through links on our site, we may earn an affiliate commission. As an Amazon Associate, I earn from qualifying purchases. Affiliate Disclosure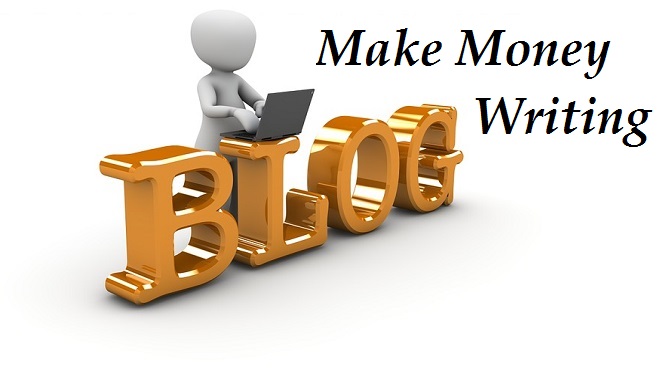 Disclaimer: Some of the links in this article are affiliate links that may provide me with a small commission at no cost to you. See my Affiliate Disclosure for more information.
Earning money from home for the creative writer in all of us.
You must treat your blog like a business, not a hobby if you want to earn money writing articles for your blog. Don't declare yourself a blogger, you are the CEO of your blog, and part of your responsibility is article writing to earn an income for your business.
The world has changed since late 2019, and many people have found themselves unemployed and in need of a passive income. Those of you reading this have declared yourselves writers, if you have no desire to be a writer you would not have found your way here.

There are many ways to make money with your writing that you can do right from home. If you have time to read, then you have time to write. The difference between the two is, one takes your time, but gives you knowledge, and if you are paying attention, it will give you wisdom.

The other will take your time, your knowledge, and your wisdom, but will return to you an income that will put food on your table, a roof over your head, and if you are astute, your writing can put a Tesla in your garage.

Let's get started on building your dream life through your creative writing.


Begin with a blog to earn money from your writing.
The easiest way to make money writing from home is through blogging. Many bloggers make the mistake of blogging about topics that interest them, but just because you are interested in writing about the topic doesn't mean it interests your readers.

If you can find out what information your readers are looking for, you can use your creative writing abilities to offer them the best solution to their problem.


How do I find out what my potential readers are searching for?
I am glad you asked that question, my inquisitive reader. I just so happen to have an outstanding answer for your very important question that will determine your blog writing success. Knowing what problems and helpful advice people are seeking is the first step to writing a blog post that best gives them the answer they are searching for.
Keywords are the Key.
According to Adam Enfroy we should focus on 1-2 keywords that match our reader's intent.

We must not only know what our reader's intent is when they search for valuable information, we must also know how many people are also searching for that information. If we are going to use our creative writing skills for article writing, we must know there is a large enough number of people searching for the information.

The first step is to visit the website kwfinder.com This website lets you do five searches a day for free to give you a taste of their exemplary service. Once you see the detailed information they offer you, I think you will agree their paid plan that allows you to perform more searches every day is well worth the modest price.


KWFinder is the best keyword search tool I have found.
KWFinder will provide you with the search volume trend for the last 12 months, monthly search volume, average cost per click in Google Ads, Level of competition in (Pay Per Click) in Google Ads, and Keyword SEO Difficulty, for the Keywords you type into their search. Besides that, they will also show you related keywords and their stats.
Look for keywords with a search volume over 5000, and a keyword SEO difficulty rating under 42 for best results. There has to be enough people searching for your keyword, or nobody will ever look for you, let alone find you.
If well established, well-known companies have already dominated your chosen keyword you won't stand a snowball's chance in Bangkok, Thailand during the month of August of ranking in the search engines.
On the bottom right-hand side of the screen is the SERP analysis of your competition. These are the websites located on the first page of Googles search results for the keyword you chose.
You will see your competition's name and stats such as…
Domain Authority predicts how well the domain will rank on Google compared to others.
Page Authority predicts how that page will rank on Google compared to others.
Citation flow predicts how influential the page is based on the quantity of their backlinks. .
Trust Flow predicts how influential the page is based on the quality of their backlinks. .
The number of external links to the URL. .
The number of Facebook shares. .
Link Profile Strength estimates how difficult it is to rank for that position. The higher the number, the harder it is to rank. .
Estimated visits per month. .
Armed with this detailed information, you will know just what you need to do to outrank your competition and if it is worth your time to try.
Answer The Public will give you more ideas for articles to write.
Now that you have your valuable information take the profitable keywords you got from KW Finder and go pay a visit to the website, answerthepublic.com. If you type your keywords into the search on Answer the public, you will be presented with a series of keyword related questions that people are asking about.

Annoyingly this response is in circular form, which requires you to be able to read content at multiple angles which will wreak havoc on your mind and eyes. If you can get past this mind-altering debacle of a website, you will find there is valuable information contained within it.

If your brain can process the information presented to it, it will reward you with copious ideas for blog posts that your readers are interested in reading.

Now that you have found keywords and topics that hungry readers, and potential customers are looking for, you can begin to build your niche site, and earn money through your creative writing.

The two most popular ways to monetize your blog is through affiliate marketing, and the second method is through ad-revenue.


Affiliate Marketing:
Amazon Associates is the most popular affiliate program. Amazon is the most trusted name in ecommerce. You can use banner ads, or recommend specific items to your readers. Amazon will give you a code to add to your website and it your viewer clicks on it, and makes a purchase, you will receive a commission.

Not only will you get a commission on the item you advertised, you will get a commission on everything they purchase within 24 hours of clicking your link.

ShareASale is one of the largest affiliate network programs that you can join. They have been around since 2000. Share A Sale was started by Brian Littleton, they have over 3900 merchant programs in their network.

ShareASale is free to sign up for and has great customer service.

ClickBank is an e-commerce retailer of physical and digital products. They offer over 6 million digital products in over 20 categories. This program offers commissions as high as 75%.

It's free to join and there are no minimum traffic requirements. It's available to anyone that wants to try earning a commission through them.
Earning Money Through Ad Revenue Networks:
Google Adsense: is the most popular ad revenue network.

Google AdSense will provide you with a code for you to place on your website where you want your ad to appear. You can customize the size of the ad that appears, and the type of ads that will appear on your blog.

You can have ads that appear on your blog be based on the content of your blog, or based on what your blog visitors have searched for recently. If they searched for tire reviews for instance, they may see tire related ads when they visit your blog.

Google AdSense does not have a minimum traffic requirement to get approved for their program. They do require you to have quality, unique content on your blog to qualify for their program.

You need to have certain pages on your blog to get approved such as an about us, privacy policy, and a contact us page. Make sure you have them on your search menu before applying.

It is very important to read Google AdSense's terms of service and follow them exactly. If you violate any of these terms of service Google will quickly disable your account, and it will be virtually impossible to get it back.

Media.net

Media.net is similar to Google AdSense, and considered a suitable alternative to AdSense. After you apply for Media.net they will look through your blog to determine if your blog meets their guidelines and doesn't violate their company policies.

Once approved you will be able to log into your dashboard and start placing ads on your site. You will also be assigned an account representative to answer any questions you may have.

Media.net will give you a code to place on your website to show their ads on it. The process is simple, but if you have any problems, your account representative will be happy to assist you.

MediaVine

Media vine pays more money to site owners for the ads they place on their blog. You will have to be a seasoned blogger with a large following to qualify for Media vine. Media vine require about 60,000 page views a month.

They also require you to have quality content, and an engaged audience viewing your blog. Media Vine will check your most recent blog posts to verify readers are engaged with your content.

They require you to supply them with a PDF to provide them with your Google Analytics and all of your traffic and visitor behavior. This is their way of ensuring that your traffic is from human sources, and not bots.

If you qualify for Media vine, you will earn much more ad revenue than with AdSense, or Media.net.

Good luck in your quest to earn money writing articles for your blog from home.

Related Articles:

Blogging Tips and Tricks for Your First Blog

How to write an amazing article for your Blog that gets numerous views




Previous Article - 10 Fail-Proof Strategies to Achieve your Writing Goals.

Next Article - How to Write Articles that rank in the search engines



Come join us on Facebook Click here...






EBook Guidance is a participant in the Amazon Services LLC Associates Program, an affiliate advertising program designed to provide a means for sites to earn advertising fees by advertising and linking to Amazon.com.

All links on this site are subject to being sponsored content for which we will receive financial compensation.