Must Read Books to Improve Your Writing Skills.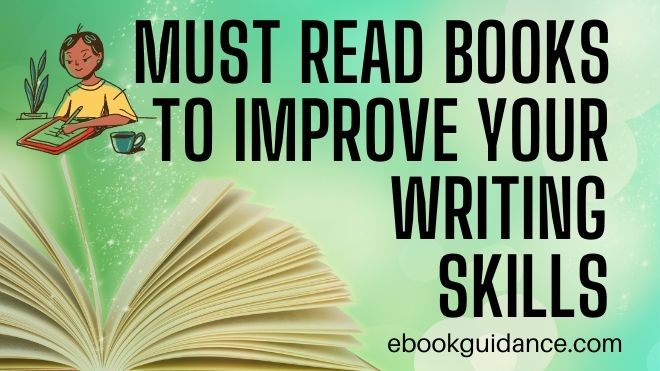 Image created by R.G. Ramsey - Via Canva
We can all use a little writing wisdom.
"A journey of a thousand miles begins with one step." ~Lao Tzu

"The scariest moment is always just before you start. After that, things can only get better." ~Stephen King
All of us aspiring writers know authors we admire and try to emulate. There are other authors that make us wonder after reading their book how the heck garbage like that ever got published.
I have read mind numbing books by published authors that were so bad they made me blurt out, "I can do better than this."

I am sure many of you have had similar experiences. Great minds think alike.

Here are a handful of helpful books from Amazon to guide you on your journey.


eBook Guidance is reader-supported. When you buy through links on our site, we may earn an affiliate commission. As an Amazon Associate, I earn from qualifying purchases. Affiliate Disclosure
Let's dive right in.
Elements of Style
By Strunk and White
Best-Selling Author Stephen King wrote in his book, On Writing, "I'll tell you right now that every aspiring writer should read, The Elements of Style."
According to Stephen King, this is the only book about writing not filled with bull… "garbage" to use more family friendly terminology.
Stephen King giving his approval of the quality of a book about writing is about the best recommendation that authors of such books can receive.
From the back cover:
Time and again people fall in love with good writers. Words are powerfully seductive. A unique combination of them can be the key to someone's heart.
Elements of Style, by William Strunk, is a stable cornerstone on which to build your writing skills. Written in the storied hallways of Cornell University, thousands of eager eyes have read and examined the guide.
Elements of Style has grown to become the American English writing style guide often required in U.S. high school and university composition classes. It includes:


8 rules of usage
10 principles of composition
List of commonly misused words and expressions
and a "few matters of form"
This elegantly typeset edition is the most relevant one for today's talented writers.

Professor William Strunk Jr. wrote The Elements of Style in 1918 and privately published it in 1919, for use at the University of Cornell. E. B. White was a student of Professor Strunk in 1919.

White revised The Elements for a 1959 edition (Strunk passed away in 1946). White's expansion and modernization of Strunk's book created an updated version known as Elements of Style by William Strunk and E. B. White, the first edition of this book sold about two million copies in 1959.

This timeless classic is still popular and relevant for authors who are just beginning their writing career, and as a helpful reminder for more accomplished writers as well.

Don't miss your change to own this fascinating book to help you improve your writing skills.


On Writing
By Stephen King


Best-selling author Stephen King's book starts off like an auto-biography, but his book eventually becomes a very useful source of information to help you become a better writer.
On Writing is organized into five sections, each with its own unique message for the reader:
The first section, Stephen King describes events in his life that influenced his writing career beginning with his writing experiences as a child.
The second section, "What Writing Is", King urges the reader to take writing, and his helpful wisdom seriously.
The third section "Toolbox", Stephen King discusses English mechanics such as vocabulary, grammar, and writing style.

The fourth section, "On Writing", King explains his advice to aspiring writers.

The last section, "On Living: A Postscript", King describes his van accident and how it affected his life. Shortly after this accident, Stephen spent some time in Naples, Florida. I worked in a grocery store there, and Stephen King was a frequent shopper in my store.

He was always polite when fans asked for an autograph, or attempted to engage him in conversation, but tried to stay incognito as well.

I downloaded Stephen King's book, On Writing, onto my Kindle Fire. I enjoy it so much, I prefer to read it myself, instead of using the audio read feature.

If you want to improve your writing skills, you can't go wrong with, "On Writing", by Stephen King.


On Writing Well
By William Zinsser


On Writing Well: The Classic Guide to Writing Nonfiction is a collection of principles that can help every writer create nonfiction works of art in various genres.
It explains why writing well is essential for everyone, as it helps people organize their thoughts and communicate more clearly.
If you want to be a great nonfiction writer, this book is essential reading.
From The Back Cover:
"On Writing Well has been praised for its sound advice, its clarity and the warmth of its style. It is a book for everybody who wants to learn how to write. Whether you want to write about people or places, science and technology, business, sports, the arts or about yourself. Its principles, and insights have made it a cherished resource several generations of writers, and students."
Get a copy of your own on paperback, or download it from Amazon to read on many devices forever.
Bird by Bird
By Anne Lamott
"Thirty years ago my older brother, who was ten years old at the time, was trying to get a report on birds written that he'd had three months to write. It was due the next day. We were out at our family cabin in Bolinas, and he was at the kitchen table close to tears, surrounded by binder paper and pencils and unopened books on birds, immobilized by the hugeness of the task ahead. Then my father sat down beside him, put his arm around my brother's shoulder, and said, 'Bird by bird, buddy. Just take it bird by bird."
Anne Lamott's book, "Bird by Bird" starts with her reveling her lifelong love of books and her father's influence on her life and her writing. Her father was a writer, and she eventually followed in his footsteps.

Lamott realized that she could write engaging and amusing stories readers loved. When her father was stricken with brain cancer, she wrote about her family's struggles.

Her manuscript was eventually published, and Lamott has worked as a writer ever since. She wrote Bird by Bird in order to share with the reader everything she knows about writing.

Lamott discusses her style of writing, comparing the process of her writing to the slow development of a Polaroid picture.

Let your story slowly develop in your mind and write it down on paper with the help of this amazing author.


Writers Market
By Robert Lee Brewer


Writers Market is another book recommended by Stephen King that will help you get your book published.
Writer's Market is an annual resource book for writers who wish to sell their work. The publication is released by Writer's Digest Books and usually hits bookstores around the summer of each year. Writer's Market was first published in 1921. According to their website, Writers Market was recently sold to Penguin Random House as part of the F+W Books acquisition.
If you want to get your book published and paid for your writing than Writer's Market 2020 will guide you through the process with thousands of publishing opportunities for writers, including listings for book publishers, consumer and trade magazines, contests and awards, and literary agents, as well as new playwriting and screenwriting sections. These listings feature contact and submission information to help writers get their work published.
You'll also find articles devoted to the business and promotion of writing. Discover 20 literary agents actively seeking writers and their writing, how to develop an author brand, and overlooked funds for writers. This edition also includes the ever-popular pay-rate chart and book publisher subject index!
Get your book published with this helpful resource guide. Keep Writing!
R.G. Ramsey
Related Books to Discover:
27 Scariest books by Stephen King to Terrorize Your Dreams 27 Great Classic Books you should experience the pleasure of reading.

Previous Article - How to Write an eBook Readers Love



Come join us on Facebook Click here...

EBook Guidance is a participant in the Amazon Services LLC Associates Program, an affiliate advertising program designed to provide a means for sites to earn advertising fees by advertising and linking to Amazon.com.

All links on this site are subject to being sponsored content for which we will receive financial compensation.